Case Study: How to Love Being a Dentist Again
"The day I began using Dental Intelligence was the day I started to get my life back."
---
"You can go and actually enjoy a life outside of the dental practice."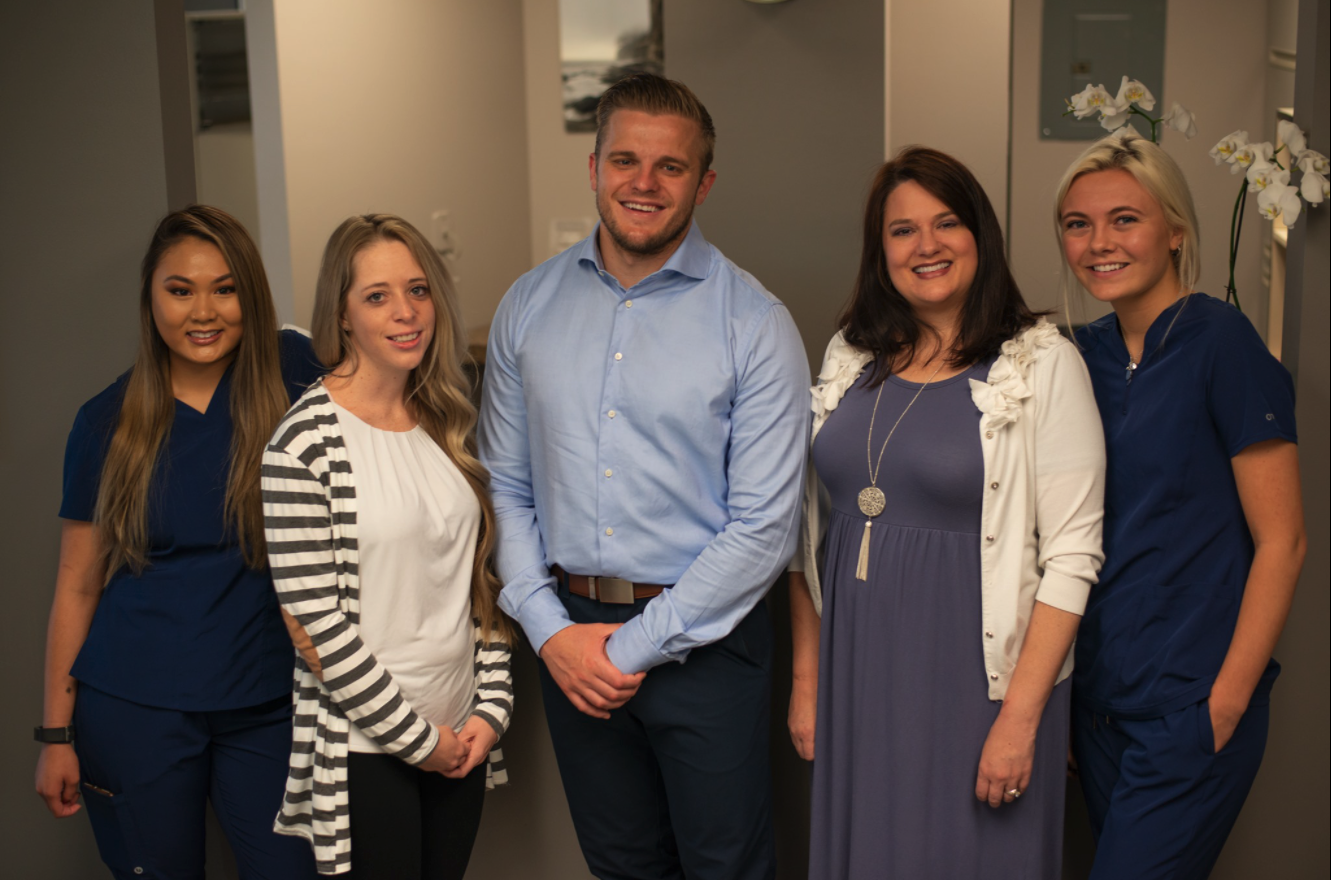 Does any of this sound familiar?
It's 5:30pm on a Thursday afternoon. You walked in the door of your practice eleven hours earlier and spent that first hour handling business issues before your morning huddle began at 7:30am. Your first appointment was at 8:00am, and you saw a steady stream of patients all day long, with a quick thirty-minute lunch you rushed through before an emergency patient came in and needed immediate attention. You're exhausted.
One by one your team members head out the door, excited to have Friday off. And you? You walk back to your office and slump into your chair, glaring at the pile of paperwork, patient files, and reports to complete stacked high on your desk. It's the end of the month, and you can either stay until 9pm or later or spend part of your "day off" Friday getting caught up.
Is this how owning a dental practice was supposed to be?
************
How Many Jobs Do You Have?
Dr. Dillon Jensen graduated from dental school in 2018 and immediately purchased Saltwater Dental, an existing dental practice in Salt Lake City, Utah. Although he had planned to pursue a career in art at one point, he'd quickly realized there was much more financial stability in dentistry than in painting. Dr. Jensen enjoyed helping people and believed being a dentist would be a meaningful way to impact the lives of others. What he didn't know, and what many new practice owners soon discover as well, is that owning a dental practice, especially at first, is another full-time job.
"One of the things I didn't love about my job was staying after a full day of work and having to spend almost another full day at work taking care of the business," Dillon said. "I would also spend a lot of time preparing huddles for the next day; looking at my patients, figuring out who had unscheduled treatment, who had worked that needed to be done, who had family members that needed to be rescheduled, etc. And I quickly noticed that even when I would stay after work to try and handle all the business aspects of my practice, and despite my best efforts, things were falling through the cracks."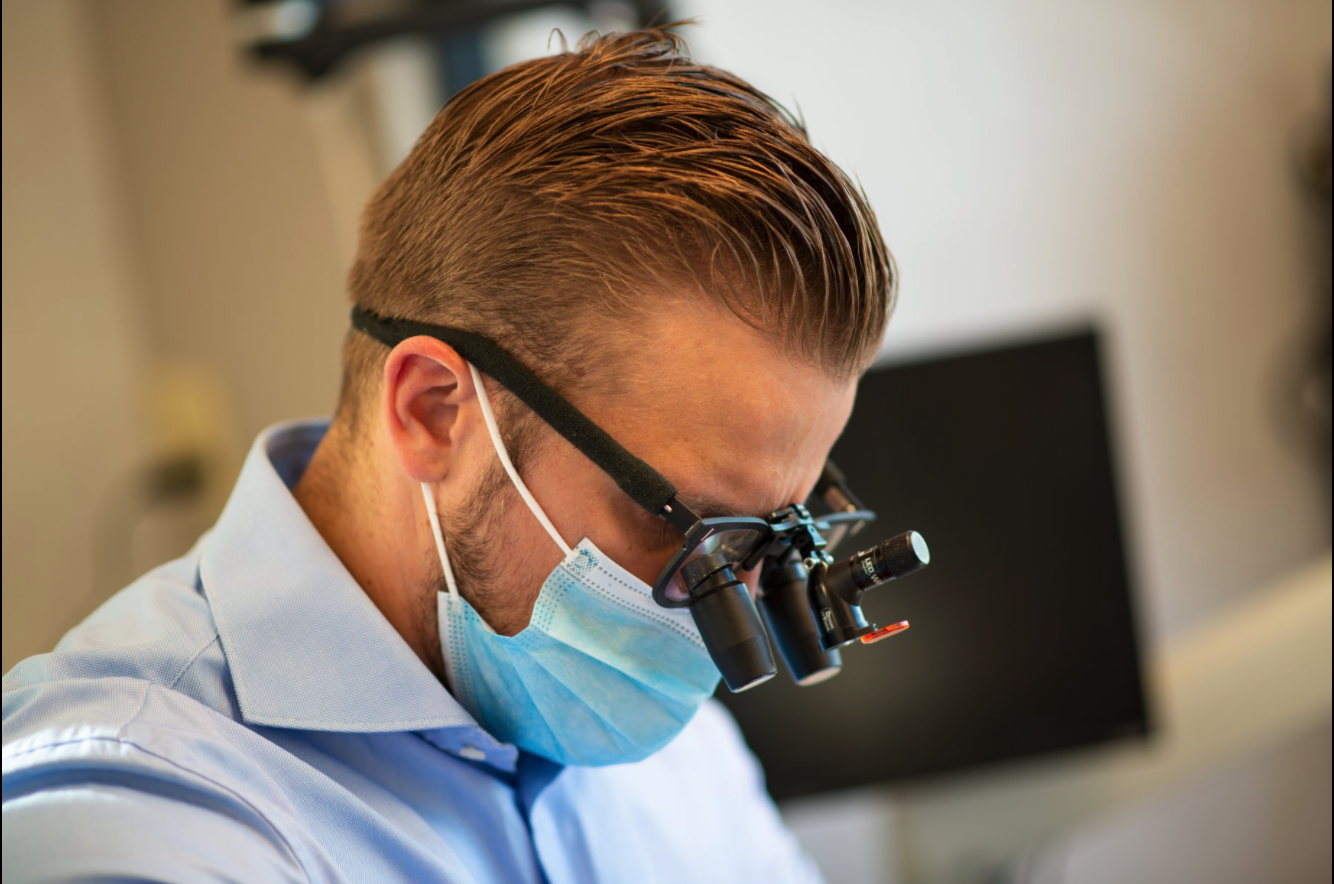 This is a common challenge that almost every clinician/practice owner experiences. During business hours you need to focus on treating patients. That is what keeps the doors open and how you pay the bills. It's also likely the reason you went into dentistry to begin with. However, as a business owner, all of those decisions relating to marketing, accounts receivables, HR, and so much more still have to be made, and you'll most likely need to be involved at some level in making them. Generally, that means you're going to be wearing your owner hat in the hours you're not treating patients. Translation: Long nights and weekends. As Dr. Jensen quickly discovered, quality of life for a clinician/practice owner can be less than ideal.
In Dr. Jensen's search to find a solution, a colleague suggested he look into a company called Dental Intelligence, also based in Utah. Dental Intel helps over 8,000 dentists to use the intelligence hidden within their practice management software data (i.e. Dentrix, Eaglesoft, Open Dental, etc.) to see what's happening in their practice, to understand what the data means, and to develop and implement a plan for growth and success.
"Dental Intelligence has been a game-changer for us," Dillon said. "Now, instead of staying extra hours after work to stay on top of things, I usually come in about 10 minutes before everyone else in the morning and I'll review the huddle that's prepared by Dental Intel. I'm then able, with just a quick click, to see how many unscheduled patients we had yesterday, who has unscheduled treatment, etc. And it has also helped us to add several hundred dollars in additional production each day."
The Strain of Stress
It's not at all surprising that a recent survey of British dentists found that over half of those dentists surveyed suffered from job-related stress. Even more concerning, almost half of those responding indicated their stress levels "exceeded their ability to cope." Some of the most cited sources of stress included the threat of complaints/litigation (79%), dissatisfied patients (75.1%), followed by work pressures such as running behind schedule (64.9%), and difficult patients (61.2%).
Another recent article in Dentistry IQ captured the experience of a dentist who was struggling with stress and burnout. She ultimately found solace in leaving the profession and becoming a life-coach and equine therapist, but not before watching as other colleagues retired early or tragically, took their own lives.
Dental professionals perceive dentistry to be more stressful than other occupations. This is consistent with their experiences of moderate to severe stress at work, where they endure an average of five to seven significant stress triggers each day. The most common contributing factors are (1) time pressures, (2) patient demands, (3) uncooperative patients (pediatric, fearful, nervous, or militant), (4) high levels of concentration and focus, and (5) team issues.
Many dental professionals are affected so deeply that their stress levels negatively interfere with their usual daily activities and interpersonal relationships up to five days a month, and often lead to early retirement from the profession. Burnout, mood disorders (particularly depression and anxiety), alcohol abuse, and physical health issues such as cardiovascular problems can all be tied back to stress levels in dental practices.
Dr. Jensen also had friends who had owned dental practices for years who shared similar accounts with him of their struggles with anxiety, depression, and fatigue. He had no desire to follow in their footsteps. He also had great concern about the number of patients who weren't receiving the care they needed because they were invisible to him and his team. This only added to his stress levels. Dental Intelligence has opened a whole new world to Saltwater Dental and has allowed them to provide better care to their patients.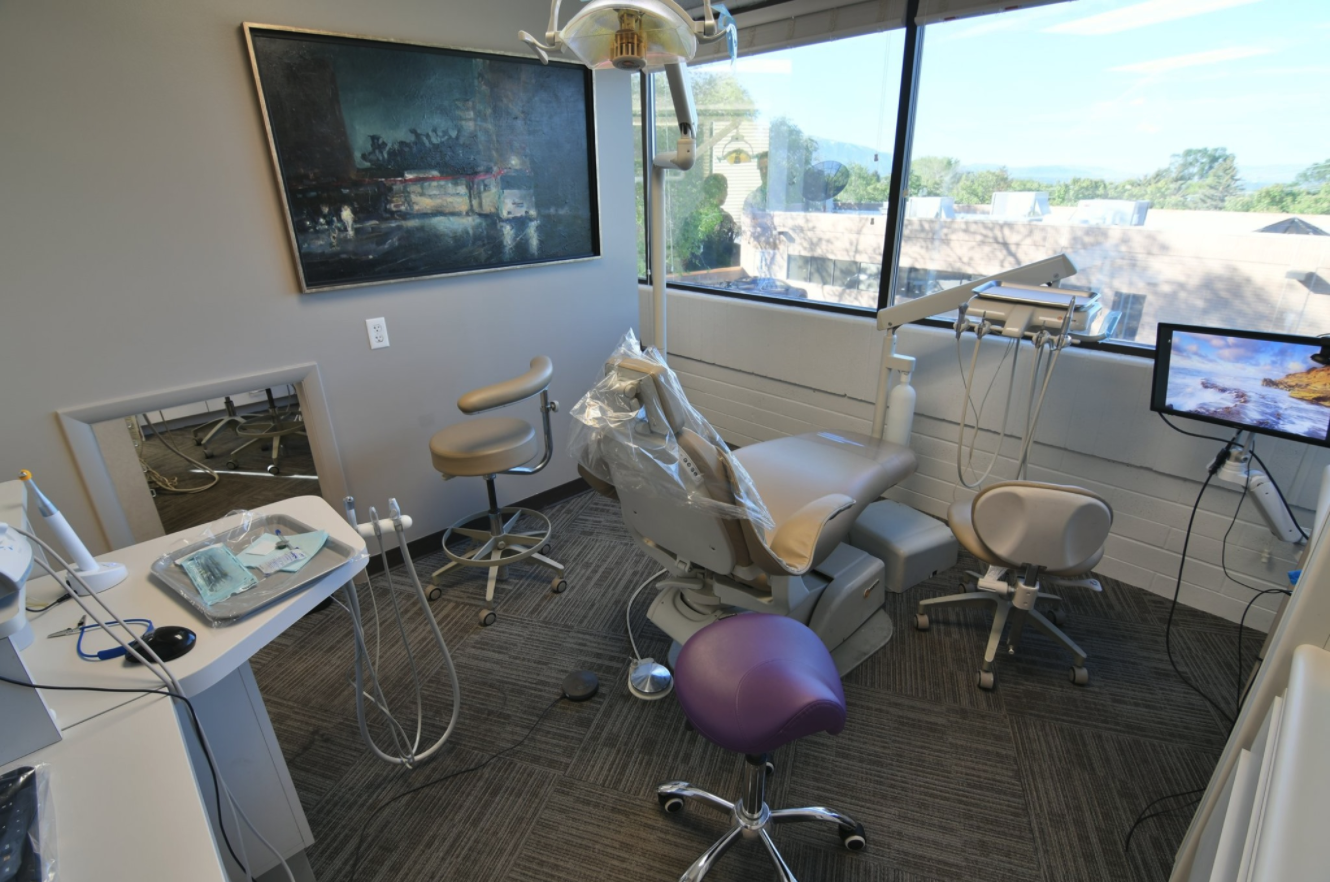 "I am using Dental Intel to provide better care to my patients," Dillon said. "If this software wasn't a part of our practice, so-called 'little problems' like fillings or a crown can end up going untreated because we forget about them. The patient forgets about it, time goes by and pretty soon that 'little problem' has turned into a much bigger issue. But it could have been treated and addressed at a lower cost and with much less pain if we had treated it proactively instead of reactively. This has everything to do with the quality of the data we have access to about each patient. I look at Dental Intel as a partner in helping our practice to provide the best care possible to our patients, while at the same time, my stress level and anxiety about my practice is gone."
A Path to Real Growth
Another way Dr. Jensen is using Dental Intelligence is as an engine for growth. "Since implementing this solution at Saltwater Dental, our referrals have gone up as well. A new patient will call in and say 'Carol, who I work with, referred me to you and mentioned that you guys will watch my insurance benefits to make sure I use them.' Or they'll say things like they don't even feel like they have to think about their dental anymore. They come and they learn that they can trust us and then they listen to us when we say things need to be done." Dillon said this type of patient care is possible because they have data to easily keep a close eye on everyone without time-consuming reports and paperwork.
"It's super easy to say to the patient, 'Hey John, I saw that you needed a filling done. You know, we've got 20 minutes. Why don't I have you hop over to my chair and we can get that done for you? It's also helped us to get family members scheduled by reviewing the patient's profile found in Dental Intel and see if a spouse or child needs to schedule an appointment or has unscheduled treatment."

What's the impact of this greater visibility? "When I bought Saltwater Dental," Dillon shared, "The previous practice's re-appointment rate was hovering between 60-70%. Now, on average, we are typically above 90%. When people don't slip through the cracks, it becomes super easy to pick up some low hanging fruit and increase your production and profitability. For example, in November and December when patient's insurance funds are about to expire, they don't mind at all when we give them a call and to say, 'Hey, we notice you've got some work that needs to be done. We're sorry we forgot to get you scheduled. As you know, if you don't come in before the end of the year you'll lose those dollars.' People are excited to come in and they're appreciative that we're looking out for them. I think the patients really appreciate that someone's in their corner and that we're wanting to make sure their benefits are being maximized every year."
Increasing Production, Without Adding New Patients
An area almost all dental practices struggle with is in knowing how to market themselves effectively and efficiently. With so many options available, and with so many competing voices encouraging you to spend your hard-won dollars to advertise with them, it's easy to understand why many practice owners want to just give up in frustration. Dr. Jensen has discovered a better way. "This software has also been a game-changer for us in our approach to adding new patients. I've spoken to colleagues who've been practicing dentistry a lot longer than I have, and of course there are things I'm still learning, but it's disheartening when I hear about dentists dumping thousands and thousands of dollars into marketing because they believe that's the best way for them to grow. I try and explain to them that there is so much opportunity for growth sitting in your practice that they aren't able to see, but they struggle to understand why that information isn't already available in their practice management software."
For example, when Dr. Jensen bought his practice there were around 900 inactive patients on his records. Dental Intelligence defines an inactive patient as either being marked active in your PMS or they have completed an appointment within the past 18 months. Since implementing Dental Intel, Dillon and his team have reduced this number from 900 to around 100 inactive patients. With a very small exception, the majority of these once-inactive patients have been grateful for the reminder that they've not been in to see their dentist in the last 1-2 years and they've readily scheduled an appointment to come back in.
"I bonus one of my assistants $5.00 each time she schedules an inactive patient using Dental Intel," Dillon said. "She's doing a phenomenal job. It really helps to be able to see all of the notes about the history of each patient in one place. Those bonus checks are my most favorite thing to sign as a practice owner, and not just because I love celebrating the work of my assistant. I've looked at the metrics on what a patient is actually worth over their lifetime in our practice, both themselves and those they might refer, and it's thousands and thousands of dollars."
Being able to use Dental Intel's Patient Finder also allows Dr. Jensen to easily find the type of dentistry he's most interested in doing. "I can quickly search for all my patients that need implants or crowns using the Patient Finder. Then we call those patients and say something like, 'Hey Robert, I see we haven't done that implant for you on #19. Would you like to come in for a free consultation and we can discuss your options?' It's so nice to be able to quickly filter and identify the exact kind of opportunities we're looking for."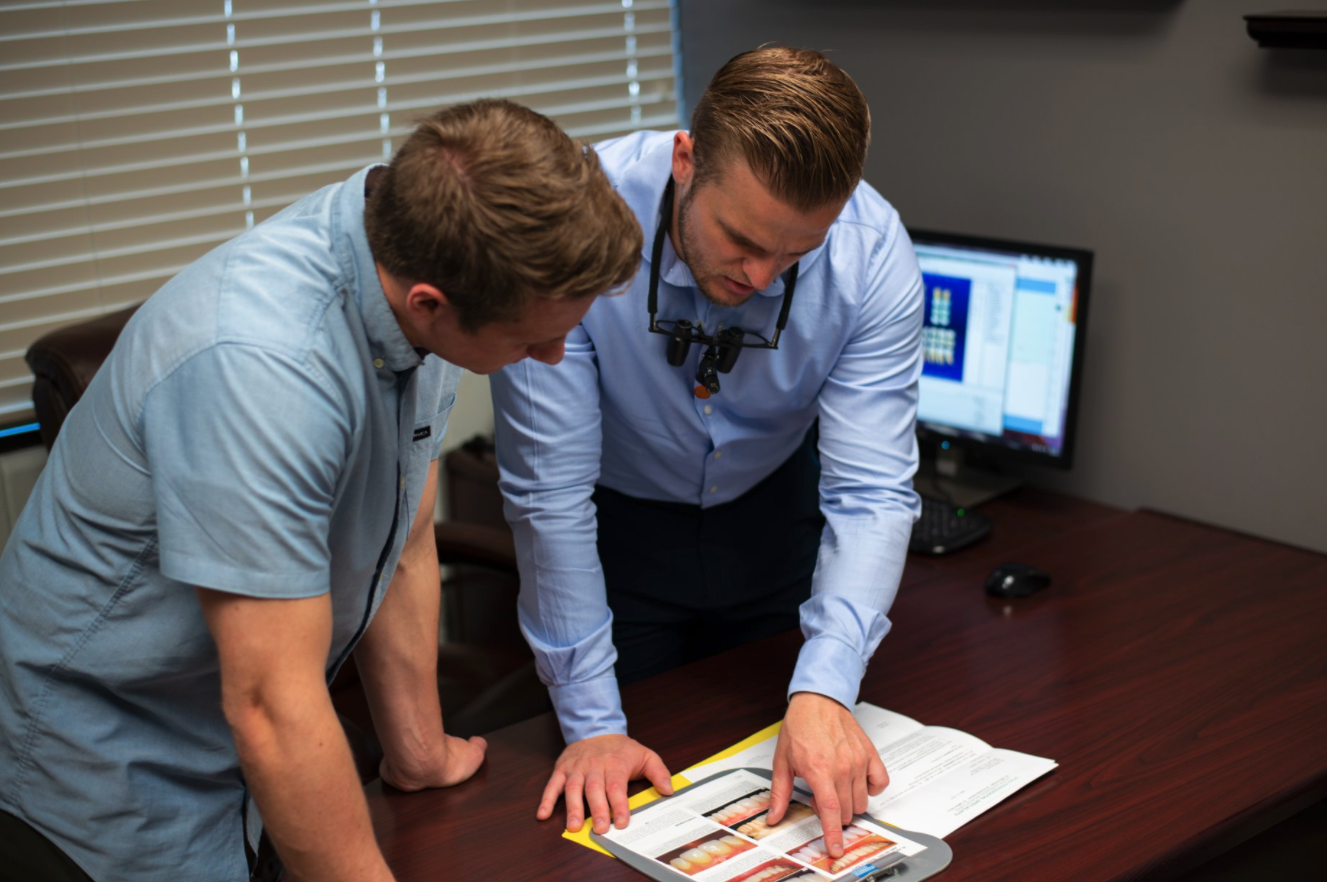 For Saltwater Dental, growth has been a team-wide activity. "We have all taken ownership of some part of our key numbers," Dillon said. "Certain assistants are responsible for checking daily on families that need to be scheduled. Operative assistants are in charge of checking for patients that are coming in with unscheduled treatment that needs to be done. Hygiene assistants are responsible for checking their patients for work that needs to be completed. And everyone knows to ask about unscheduled work. It's a team effort." He also talked about how Dental Intel has greatly reduced the number of meetings they have while increasing the effectiveness of the meetings they do hold.
"Dental Intel has made it so we're not having death by meetings," Dr. Jensen related. "It's now really easy to quickly assess where we're bleeding and what we need to do to stop it. And it's not finger pointing. It's just, 'Hey team, here are some facts. We're currently reappointing at 70%, so what can we do so we can be more thorough at getting people back in the chair in six months? What can we, you know, where our treatment acceptance rate is here, what can we do to bump that up?' And when you have metrics to look at, like I said, there's no blame. It's how can we as a team take action if we are letting things fall through the cracks? I love that it's facilitating better conversations built around data. It's collaborating. I love being able to go in and be a good clinician. I get to be someone that just has to worry about the Hippocratic oath I took. And just being a good healthcare provider when you put the right systems in place and the benefit is tenfold. It's a no-brainer."
There IS Life Outside Your Dental Practice
So, you've made it this far. You're trying to find the best solution for growing your practice, but not at the expense of the rest of your life, right? Wearing the doctor-hat by day and the business-owner hat by night is not a long-term strategy for success, or peace of mind. Is it really possible that software could help you to do both? Doesn't every company claim to be the answer to all of your problems? For Dr. Jensen, Dental Intel has helped him fix one big problem that was measurably impacting his quality of life.
"It kind of boils down to how, how's that working?" Dillon concluded. "You know, that lifestyle of working harder and longer as your frustration grows. I'm thrilled with just working smarter and having systems in place that do so much of the work for me. Being able to see the broader picture and being able to break that down into just the smallest important details. Things aren't bleeding through the cracks anymore. Dental Intel has enabled us to create a culture where our patients are grateful that they're not having to worry about appointments and are making sure they're maximizing their benefits. They know that someone's being sharp and accountable for being their healthcare provider."
How about quality of life, Dr. Jensen? "Dental Intel has impacted my quality of life tremendously. Being able to come home after I finished the last exam or cleaning is so refreshing. I love knowing that I get to go home immediately after work with the rest of my team and not stay long hours into the evening to deal with the business of my practice. Sometimes I'll have been home for two hours and I get calls from colleagues who are still in their office. I truly feel sorry for them. It's just nice to have so much of that metric work already done so you can go live. You can go and actually enjoy a life outside of the dental practice. I just love it. I get to focus on what I'm good at. I think the happiest people I know are the people that know when it's time to delegate something to someone else. The day I began using Dental Intelligence was the day I started to get my life back."