Filling Your Schedule with the Best Patients (pt. 2)
Growth to me looks like finding the ideal day. The type of procedures you want on the patients you know with people you enjoy. So, it goes back to something simple - if you come to work every day and enjoy the people you're working with, that's growth.
---
(Part 2 of Filling Your Schedule with the Best Patients - Read Part 1 here)
Kelly
Okay so look at this - this is what our normal is - with our systems, with your tools of DI. Last year 64% of the dollars scheduled out of 2 million presented 1.3 scheduled. The patients in that same practice - 93% scheduled. So out of 3800 treatment plans, 3600 scheduled for 93% of the patients. This is the elite - it's not that you can't do it - you need the systems we're talking about today. You need the power drill instead of the screwdriver to really make this happen.
Katie
The one thing that - this is obviously a love letter to DI because we work here and Kelly uses it.
Curtis
And Kelly can use that power drill
Katie
And obviously there are other ways to achieve this, but one of the things I've learned as a hygienist is that there are so many different ways to fill the holes in your chairs - follow ups, patient finder, restorative elective cases, cancellations, no-show lists. There are so many ways to go about doing it, and based off your goal, it can be achieved.
Kelly
Speaking of follow ups, you know they are follow ups to unscheduled treatment and for filling schedules out of recare, right? I want to make sure the teams are cautious here. If someone no-shows, why would they be on the top of my list to call back? If you don't give us the courtesy to at least call 24 hours in advance, I don't see you as a value to the practice. Now on the other side, I like to go to my cancellations.
Curtis
And the reason why is because those cancellations gave you more than 24-hour notice because they knew that they weren't going to make their appointment?
Kelly
Correct. So, the first thing I do is go into restorative cases, find the patients who - for example - scheduled a crown. I want to get them rescheduled. Or if I want to quick-fill hygiene, I go to the hygiene patients who gave me 2 hours before cancelling, and I'll call them. I'll say "Hey, I knew you had to cancel and we appreciate you letting us know. We had a change in our schedule, would you like to come in? We'd appreciate you helping us out."
I agree with Katie there are many different ways to fill holes in your schedule, but one of the things DI gives us is the ability to choose the best patient so a cancellation is a better patient than a no-show. But at the last minute, if I had a no-show today - someone called this morning and cancelled at 2, I might just call someone who no-showed yesterday and say "Hey Katie, I know you had to cancel yesterday but we had someone cancel today. Would you like to come in today?"
But again, I'm going to call you - not if you just need a cleaning but if you need treatment, right? You don't have a bad history and one of the things that you can do in Dental Intel is I can look and see if you have a history of cancelling or no-showing. So, if you're a 50/50 chance of showing, I might not even give you the courtesy.
Katie
It's amazing what data lets us see now.
Kelly
So here's another tool I like to use - when I'm looking at today in my morning huddle, I'm looking at the patients who are coming in today to have unscheduled treatment, but I'm looking also at the patients - if I'm a hygienist - I've got 9 patients coming in today and none of the first 3 patients need treatment - and none of them have done treatment, none of them have referred friends - I might not be offering them an 8 or 9 o'clock appointment down the road because I have 1000 overdue people who want to see me.
Curtis
WOAHWOAHWOAHWOAHOWAH I'm stopping you - I'm the crossing guard that just walked some kids across the street. I'm gonna say this one more time what I just heard and this is brilliant I've really never thought of this - you're telling me that if a patient doesn't have a treatment planner vs someone who does have treatment in their treatment planner, you want to schedule the patients with treatment in their treatment planner in the morning and then I'm going to finish the statement because then if they come in the morning we can get them to accept treatment so they can actually do the treatment on the same day - is that why?
Kelly
What I'm saying is if I have 1000 people overdue, of which, say 100 need treatment, I'd rather give them the first opportunity to come in vs. somebody who takes those preferred morning appointments every 6 months. Same-day treatment is always great – a great way to grow a practice. But if I scheduled you effectively and to goal, you're going to have very little opportunity - minus a cancellation or no-show - to do same-day treatment.
So, it comes back to the big question – "What's my goal?" If I'm a high PPO or maybe a Medicaid/Medicare practice that might be our focus and then we want patients for the reason you mentioned - but if I'm fee for service or traditional insurance, I'll probably be scheduled to goal.
Curtis
What did you call that, Katie?
Katie
Exponential growth. And also, it's just what's best for the patient - it always comes back to that.
Kelly
If you could get a patient in today if time allows it - the sooner I can get you in the less chance of you having a dental emergency, right? But if I'm looking at my entire morning and this is a really strong practice but their whole morning is filled with patients who don't need treatment and so they just keep pre-appointing, that's a problem, right?
The other more old-school thing is this - I say - Curtis asks me "Hey Kelly, would you like to schedule your 6-month cleaning?" Old school hygiene - I as a patient say "Well, I don't know my schedule I'm gonna have to get back to you." What do you think most hygienists say?
Katie
Most hygienists are trained to say "Let's just put you on the schedule and then if you need to cancel, just call."
Kelly
You just gave me permission to cancel! Instead, what I'll say is "Since you don't know your schedule, which day of the week is best to reach you? I'll call you the first week of January, Tuesday, and I'll make a follow up to call you Tuesday after 2 on your cell," and then I'll say "Curtis, I'm going to ask you a favor - When we call you, we'll send you a link where you can schedule with LocalMed. When you schedule will you call me back, so I don't have to chase you down?"
So, I won't give you an appointment that I hope you show - creating stress when you cancel, I'm going to create a follow-up closer to the time you're due and you know your schedule better so you can make an appointment you can commit to.
The old-school mentality is that every patient leaves with an appointment. That's the way I was taught for many years. And then I hooked up with Dental Intelligence and it's like I bought a microwave instead of a fire pit, right? I now have a more powerful tool that's quicker and more effective. So again, I'd rather have people on the schedule. Let's face it - as long as tomorrow is full, every day, that's all that matters. People who book 3-5 weeks out is a luxury. But it can also be a curse because if I'm full for three months with people who don't need work and my new patients can't get in, that's an issue. And again, when I go to my recall pie chart in DI, I see a bunch of people who need treatment and I see a full schedule next week with people who don't. I'm pulling my hair out, saying "We've got the wrong patients, guys!" So again, I want people who need our care, who will show, not people who think they'll show, and then cancel.
Curtis, would you rather have a full schedule tomorrow that just made appointments, or a full schedule that you hope will show
Curtis
100% option A
Kelly
I'd rather know I have three openings this week to fill than three people. I don't know if they're gonna show until the last minute because Dental Intel has given us that tool, that power drill, to find the patients in short notice.
Katie
As a hygienist I was often double-booked. I had an assistant, right? I worked one day a week. My dad and brother are dentists. And a lot of people, just because of the way it is with family they all wanted to get in and see me. So, my schedule was always full with recare. Doing it the way you're describing would allow more scaling and root cleaning and for me to do more fun cases!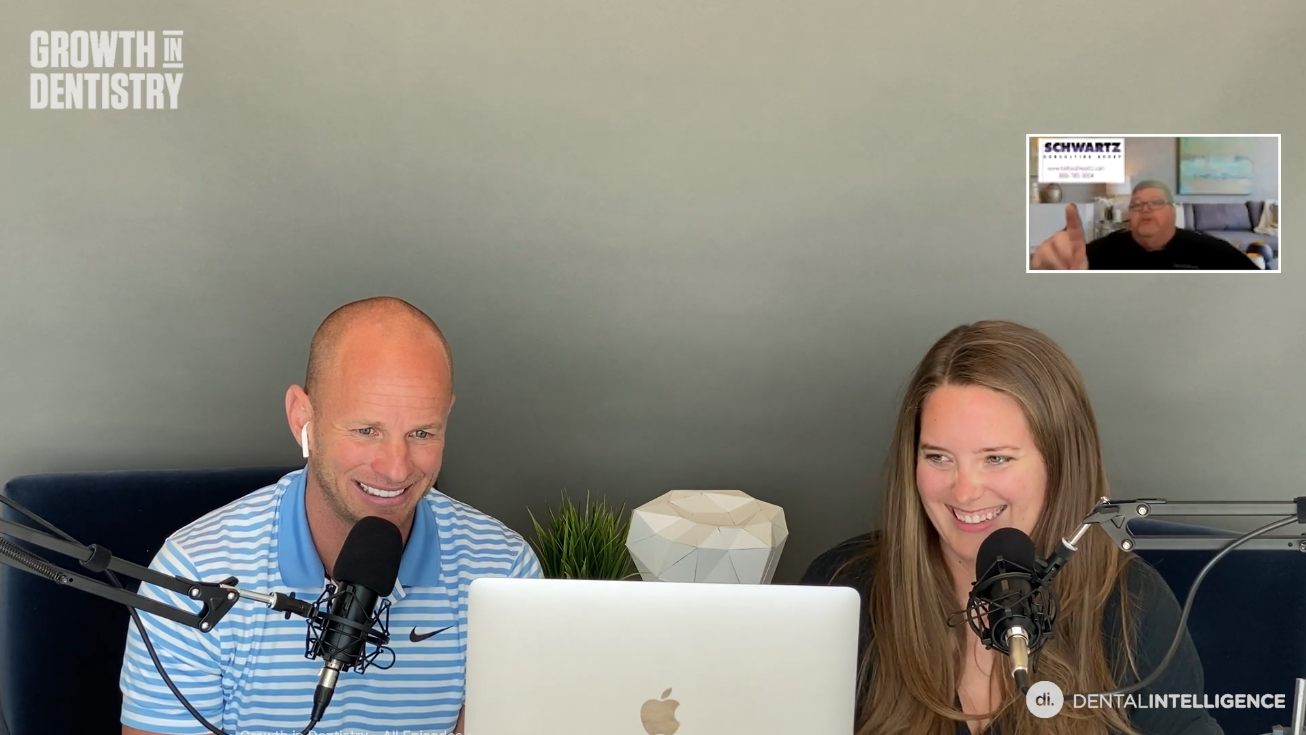 Kelly
There's no one correct way but what I love so much is that with numbers, I can kind of prove my theory. For example - this is an office that has 2600 hours of hygiene. We kept 2344 of them or 0.89 patients per day with one hour prophy. That's a 90% show rate. So, we're not scheduling everybody in advance, we're scheduling the patients that we know will have less cancellation and no-show. When we do it this way there's less stress on me and the patient because I don't know what I'm doing six months from now on a Tuesday at 2. Sure, make that appointment. And I really don't care if I cancel or no-show.
But if you have systems to take control - I have numbers to show we have a really good show rate when we make some tweaks with the DI and the LocalMed - we're crushing it in most of our offices
Curtis
So, to your point, to schedule the perfect patient, if I have ten openings in my schedule, I would much rather have nine of those filled with patients who WILL come vs. all 10 filled and have 3-4 break the appointment. I'd much rather know that these people are gonna show up instead of hoping they don't break.
Kelly
Some of my offices are resistant to change and new tech. Take a board, you have 5 screws in a screwdriver, and you give it to the old school person, and then you give somebody five screws, a board, and a power drill and say "Let's have a contest to see who can get all five screws in first." That's what Dental Intel gives us the ability to do. We're able to become way more productive.
So, these are just a few tools that I use, Curtis, to really help us be more productive. There's a lot of ways you can do it. We just like to use the power drill vs the old school way. But knowing your recare and recare numbers, those are the real effective things. It's about retention, case acceptance and effective systems. Know your systems, use all your tools. The other thing - shut the door on patients that have gone 18 months past due. We can bring patients in but we want to shut the back door because retention is really the key.
Katie
This has been amazing. We want to ask all our guests what growth in dentistry looks like to you. We ask that because it means so many different things for everyone. What does it look like to you?
Kelly
Growth to me looks like finding the ideal day. The type of procedures you want on the patients you know with people you enjoy. So, it goes back to something simple - if you come to work every day and enjoy the people you're working with, that's growth. Anna and I, our team, we only work with the practices we really like. One of the things we're trying to help our practices achieve is a "positive 16." If we want to grow to a certain level - if we want to grow by 16 new patients a month and we're losing 15, then we need 31, 32 new patients. But we want to see our growth chart go positive by 16, not below that. Net 16 growth. Average practices going up with a single doctor and double hygiene is going up about 200k a year. All but about 5 of our practices out of 100 we monitor had their best year ever last year in spite of COVID. The only ones that did not were the big groups that do 200k plus per month. They had a hard time making up those two-plus months of closure. But they definitely closed the gap. All of them when we look at production per hour had more productive - they just worked less hours. So, growth to me is being happier today than I was yesterday, working on patients, doing what I enjoy do