Patient Payments Made (Super!) Easy
70% of patients want to pay their bill via text, but less than 20% of dental practices currently offer this option.
---
If you had to make a list of things you enjoy most about owning or managing a dental practice, collecting payment from patients is probably not going to make that list. This is true whether you're attempting to collect a past-due balance from someone or just a co-pay after an appointment. Asking for and receiving payment from patients has always been a necessary but often unpleasant part of dentistry. If you agree, you're not alone. Here's what others working in dental practices recently shared with us about the challenges of patient payments:
We call, we text, we email — trying to get info to help us get payment. It's such a painful task to collect. We even have instances where we finally send someone to collections after exhausting all other options and the patients (finally!) respond angrily with "We never heard from you!"
It's tedious and frustrating to [try and collect payment] each month. Even after all of the work we put into making sure everything is correct, we still see a lot of statements coming back in the mail because the patient moved.
Even after 120 days, some will tell us they never heard from us/never received a statement from us. Trying to collect over the phone is also a challenge. Many won't answer the phone. The few that do may dispute the charges or say they'll pay eventually but don't.
It's really hard when patients show up for next appointment and we have to ask them about an overdue bill. "Didn't we already pay that?" Now we are starting off in the negative with them, and that's never how we want to start an appointment.
If they leave without paying, it becomes an "out of sight, out of mind" problem. We start sending statements via text. We start adding billing charges that stack up until we get the angry phone call asking "What is this? Why are you charging me? Didn't my insurance cover all of that?" We then have to walk them through everything on their statement, the treatment they received when they and/or a family member came in.
Does it have to be this way? Is the pain associated with collecting payment just something every practice needs to live with? The answer is "absolutely not!"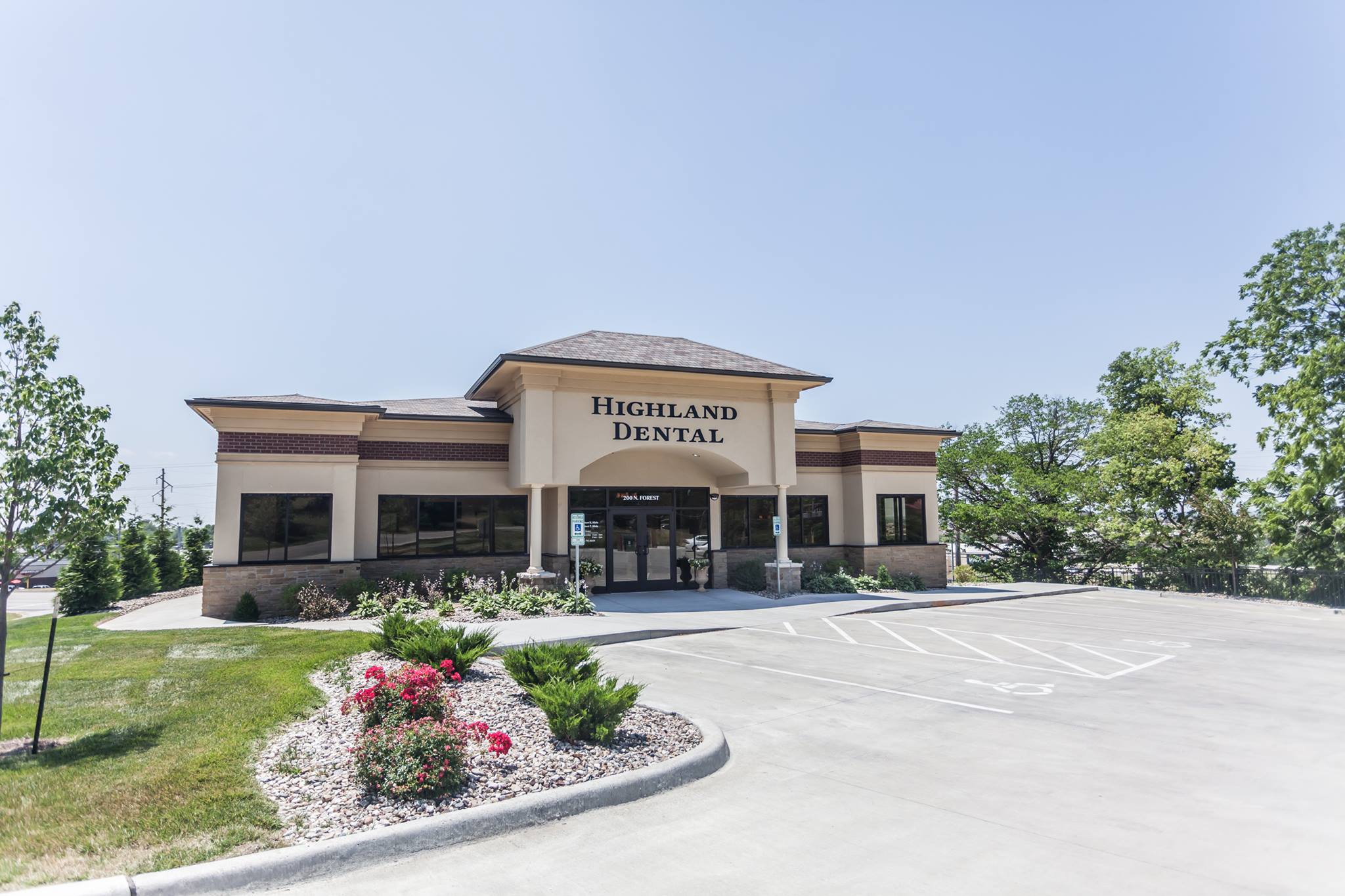 In a recent conversation Dental Intelligence had with Scot Kessler, Director of Business Operations and Development for Highland Dental in Liberty, Missouri, we learned how the four practices in the Highland Dental family have been using a powerful new solution called Dental Intelligence Payments to collect payment quickly and easily from their patients. Here's how Payments works:
You send an invoice via text and/or email to one, several, or many patients, all with a few clicks. You can use default text or customize it.
The patient receives the text and/or email with a link to a detailed invoice. They have the option to pay directly from their phone or through a secure website. After the initial easy-to-do set up, they can pay the same way each time they receive an invoice.
That's it!
As a thriving and successful practice with over 5,000 active patients, Highland Dental has seen it all when it comes to trying to manage all of the challenges around patient payments. After seeing a demo of Payments, they agreed to give it a test run just to see how their patients would respond.
Highland's first Payment's request was sent to around 800 patients with outstanding AR due. Highland had been working hard to clean up their overdue balances and had made several attempts to call or contact these patients, but without success. However, within minutes of sending a text message using Payments, the phone began to ring with people wanting to pay some or all of their overdue balances. Others used the pay-by-phone/website options. All told, Highland Dental collected over $20,000 in past-due balances within a few days of sending one message to every single one of these 800 patients. That's right — 1 message, 800 patients, $20,000 collected. Incredible!
Like many practices, Highland Dental has traditionally sent printed statements to their patients and then waited weeks or longer for payment. This outdated method of collecting is both ineffective and expensive. The average cost of sending statements is $2.71 per statement. Most of those end up unopened in the garbage or recycling bin. What about calling the patient to collect? On average, 52% of calls from practices to patients go unanswered, but you probably already know that.
Recent surveys have shown that patients are very interested in using a text-based payment solution.
51% of Americans are currently using contactless payments, and this is only going to increase
9 out of 10 patients consider contactless payment a better solution than the old way
9 out of 10 also want to see new safety measures in place around interactions
97% of text messages are opened
70% of patients want to pay their bill via text, but less than 20% of dental practices currently offer this option
65% of patients would consider switching dental practices to one offering a better payment experience
Payments is one of the newest features in the Dental Intelligence Analytics. Dental Intel supports thousands of dental practices in using actionable insights found in their practice management software (i.e. Dentrix, Open Dental, Eaglesoft, etc.) to experience real, sustainable growth.
Prior to using Dental Intelligence Analytics, Highland Dental relied on computer spreadsheets to track all of their key performance indicators (KPIs). This was cumbersome, time-consuming, and often included data that was outdated. This method also limited who had access to the information being tracked. As Scot at Highland Dental put it, "Trying to keep up with the most current data about our practice wasn't really possible. Tracking our KPIs helped, but we still felt like we were always trying to catch up to a fast-moving train. We knew we needed a better way."
Dr. Robert Klein, the founder and owner of Highland Dental, learned about Dental Intelligence when searching for a better way to manage his practice, and they began the process of implementing DI into their four locations. They also incorporated Dental Intelligence Online Scheduling which allows patients to schedule their own appointments without requiring any interaction with the practice. Over half of their new patient appointments are now booked using online scheduling.
For Highland Dental, all of these solutions are centered around a single objective: Improving patient care. Tracking data allows them to offer better care to their thousands of active patients because they are now able to better understand who each patient is, what each patient needs, and where they are in their need for care. This is the reason that a dental practice should make using actionable data an imperative. For example, Highland knew they need to improve case acceptance, but they weren't sure how to do so. They also were unsure of where they were. Once they began using Dental Intelligence, they could see exactly where they were, and they also saw what areas needed attention.
Scot shared another example of a provider on their team that had lower case acceptance than other team members. Instead of using data as a punitive tool, the leadership team wisely used this information to help this provider see what other team members were doing and then coached them with the help of this data to adjust how they were presenting treatment. That benefited everyone – the patients who needed treatment, the provider who wanted to give better care, and the practice trying to increase production and profitability. He also mentioned how their hygienists are using Dental Intelligence to see what patients need before they are in the chair which directly impacts the conversations they have with each patient. They also use DI to identify patients who have unscheduled treatment and work together to get them scheduled.
All of these successes and countless more made the decision to implement Payments into the practice an easy one for Highland. Although the need to collect from patients with overdue balances was influential, the real objective for Highland was to improve the overall patient experience with the practice. Payments is a patient-centered platform, built to make the process of paying for dental care as simple and efficient as possible. The beauty of this solution is the customization it allows you. Instead of attempting to collect using a standard billing statement you send in the mail, Payments lets you customize the content and timing of the communication you send to a patient.
At Highland, using Payments has also provided them with a powerful incentive to audit all of their outstanding AR balances to ensure they were updated and reflected the most accurate information about what was due. This revealed some opportunities as well as some discrepancies. Armed with this data, Highland was able to identify the specific patients they wanted to target in their initial campaign. This was what led to over $20,000 being collected in a matter of days.
As Scot puts it, "Payments has enabled us to connect with our patients in a new and much more effective way. The 'old-school' method of sending paper statements had its day, but this new platform clearly works better for our patients. In fact, we had to put our campaign on pause because our front-desk was overwhelmed with phone calls from people wanting to pay their balances. Payments just makes it so easy. Even if someone moves, they don't change their mobile number. Whether someone is sitting on their couch, waiting in a parking lot, anytime, anywhere, they can take a minute and get us paid. We've gone from an average AR of 45 days to receiving payment within 3-5 days of billing. That has enormous impact on our practice's ability to grow."
If you are dealing with the headache of patient payments (and who isn't?), moving to a text-based platform like Payments is a step you should be looking at taking. This is clearly the way patients want to interact with their dental practice and handle their balances. To learn more about how Payments can help your practice, visit us today.